WHAT'S HAPPENING AT ST OSWALD'S
---
CHURCH SERVICES
Wrap up warm!
Our regular Sunday and Wednesday 10am services take place in church
---
10AM SUNDAY 5 FEBRUARY
HOLY COMMUNION
Service Sheet: click here
Readings
: 
1 Corinthians 2: 1-12;
 Matthew 5: 13-20
Music words: 
click 
here
Refreshments in the church hall after the service
---
10AM MONDAY 6 FEBRUARY
MORNING PRAYER
(Common Worship)
10AM-12NOON TUESDAY 7 FEBRUARY
COMMUNITY CAFE
6-6.30PM TUESDAY 7 FEBRUARY
PRAYING FOR PEACE IN UKRAINE
(A short service of prayer)
5 REDMAN CLOSE
Please do join us in praying for a miracle
e. [email protected]
t. 01904 655187/m. 07800 774364
10AM WEDNESDAY 8 FEBRUARY
HOLY COMMUNION
(Book of Common Prayer)
10AM-12NOON WEDNESDAY 8 FEBRUARY
COMMUNITY CAFE
9.30AM-11.30AM THURSDAY 9 FEBRUARY
ST OSWALD'S TOTS
---
Please can you support this initiative by donating any of the following items:
Cereal, Soup, Pasta & Rice, Tinned tomatoes, Pasta sauces, Lentils, beans & pulses, Tinned meat, Tinned vegetables, Tea & coffee, Tinned fruit, Biscuits, Fruit juice, Toiletries & hygiene products, Tins of baby formula
Please leave in the labelled box at the back of church (open during 10am services Sunday & Wednesday)
---
REMINDER: We are now collecting the Children's Society Money Boxes.
Thank you to everyone who is supporting the Children's Society through the boxes.
Please bring your boxes to church. Or to arrange for yours to be picked up, or if you would like to start a new one, please let me know by messaging or ringing me on 0791 496 2245 or email 
[email protected]
.   Many thanks for all your support – Julia Pegden.
---

Working In Over 200 Ports Worldwide – The Mission to Seafarers provides help and support to the 1.5 million crewmen and women who face danger every day to keep our global economy afloat. St Oswald's church contact: Wendy Henwood
To view the latest news – click HERE
---
CONNECT HOUSE GROUPS

This Spring!  'Tenants of the King' – a four-session course from Operation Noah, with Bible passages, videos, practical tips and discussion points designed to help churches consider what the Bible has to say about today's climate crisis.
Wednesday 8 February 7.30pm (Redman Close Group)
contact Jackie Tuvey-Smith e. [email protected]
Wednesday 8 February 11.15am (Sir John J. Hunt meeting room group)
If you would like to join a group, please
contact Jackie Tuvey-Smith
e. 

[email protected]


t. 01904 655187/m. 07800 774364
---
REMINDER:
ST OSWALD'S CHURCH PRAYER CHAIN
Contact Pippa Ensor t. 07949844395
ST OSWALD'S CHURCH WHATSAPP GROUP
Contact Malcolm Poole t. 07791344964
Click here for more information
---
CHURCH SERVICES ONLINE
> 8.10AM – BBC RADIO 4
SUNDAY WORSHIP 92-95FM | 198LW | Digital
Belong, Believe, Become: From Alive City Church, London with Volney and Angel Morgan
> 9AM – CHURCH OF ENGLAND
ONLINE SUNDAY SERVICE
YouTube/Facebook/website
---
LOCAL NEWS, SUPPORT & HELP


For local Christian news and job vacancies, click here
—————————————–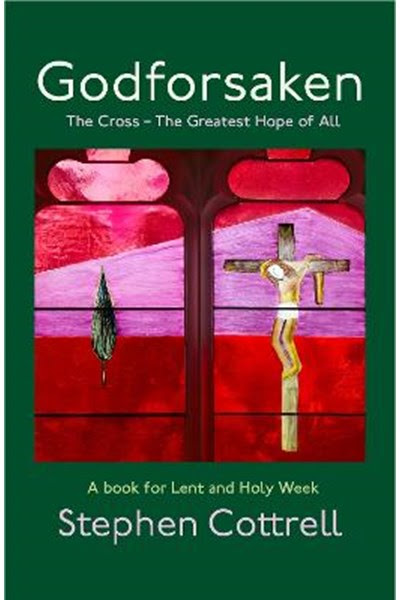 This Lent and Easter, journey with Archbishop Stephen Cottrell through his new book 'Godforsaken' with The Big Church Read. Visit The Big Church Read to access FREE videos from Archbishop Stephen to accompany the book. You'll also find a reading plan and questions for discussion or reflection.
In 'Godforsaken' Archbishop Stephen ponders on Jesus' last words from the Cross, 'My God, my God, why have you forsaken me?' (the first line of Psalm 22). It's an anguished expression – traditionally ascribed to King David – of defeat, failure, abandonment and despair. What does it mean for Jesus to have quoted them, at the very end of his life? What do those words mean for us? This is a beautiful and compelling exploration of the dark, suffering side of the Passion – and how Jesus' words lead us to the greatest hope of all.
Gather people together to read through 'Godforsaken' this Lent with the Big Church Read. It's FREE to join in and is ideal to be used by individuals, small groups and whole Churches. To find out more visit www.thebigchurchread.co.uk/godforsaken.
—————————————–
We are delighted to invite you to attend our free crime prevention webinars running during February. Each webinar will be delivered by Neighbourhood Watch with an expert speaker on each of the topics of knife crime, burglary prevention and scams. Places are free but limited. We traditionally fill places very quickly so book your place soon to avoid disappointment. As our webinars are very popular, we ask that you only book a place if you intend to attend, to open spaces for others.
The PREVENTING BURGLARY WITH WIDEN and UNDERSTANDING THE PSYCHOLOGY OF SCAMS webinars will each be run twice – you only need to book on one of those, not both.
The EXPLOITATION, GANGS AND KNIFE CRIME AWARENESS FOR PARENTS AND CARERS is a two-part course; and we ask that ONLY PARENTS AND CARERS attend those and that you commit to attending both sessions.
BOOK YOUR PLACES HERE
—————————————–

REMINDER: 
YORK FOOD BANK
 – Helping local people in crisis.
The foodbank relies on your goodwill and support.
DONATING FOOD: There are collection boxes in the church & church hall
Currently needing
: Sponge puddings (cupboard/tinned), Instant Mash Potato, Tinned Fruit, Tinned Tomatoes, Long Life Fruit Juice Cartons,  Tinned Vegetarian Meals, Men's Deodorant, Toilet Rolls, UHT Milk, Nappies size 5 & 7
There are also food collection points
 for items bought in store at Waitrose (Foss Islands), Asda (Monks Cross), Tesco (Askham Bar), Food Warehouse (Clifton Moor)
DONATING MONEY:
  You can also support the Food Bank work by donating via this link 
here
——————————————
REMINDER: Click HERE for information about York Food Bank, Christians Against Poverty, Local York Covid Community Facebook, Random Acts of Kindness, Live Well York, Local Area Coordination
---
SPIRITUAL MUSIC
All creatures of our God and King
Christ's is the world in which we move
Brother, sister let me serve you
O breath of life come sweeping through us
Let us know what hymns or worship songs inspire and comfort you. Please email your choices to: [email protected]
If you know someone in the congregation who does not have email, please also ask them – and then you can email for them.
---
ST OSWALD'S CHURCH MISSION STATEMENT
'To reach out to the Community and beyond with the Christian Gospel, 
witnessing to God's love through word and action, 
from an accessible and welcoming centre 
for prayer, worship, teaching and fellowship'