A REFLECTION FROM REV SUE SHERIFF

I have so many mixed feelings preparing for this weekend…


First of all I am excited about the Christmas Fair on Saturday from 2-4pm.

There will be lots of fun activities in both the hall and the church. I know what the stalls are going to be so I can say there really is something for everyone. The atmosphere last year was warm and friendly and this year is going to be even better. 
I don't know whether to be most excited about the food, the crafts, the games, or the music! We have musicians sharing their talents both in the church and the hall.

And of course, we are welcoming the amazing 'Blueberry' stall!

Anybody who missed out last year will be able to do a mini-heritage tour of the church.


I won't go on again about bringing a gift to the manger… just look at my last couple of reflections if you haven't heard me encouraging everyone to bring a selection box, new toy, or box of chocolates for the baby Jesus / those in temporary accommodation.


What I am really really looking forward to is making a wreath with Wild and Muddy Forest Church. I usually pay about £40 for an enjoyable evening being shown how to make wreath for the front door but Wild and Muddy have started some for us and we get to let rip with out own creativity.
 
On the other hand I have been preparing for our 10am Advent Sunday morning service for the 3rd December. Many of the hymns and carols we so look forward to singing at this time of the year, and even the bible passages we love, have a certain amount of heart break attached to them at the moment. Singing 'O little town of Bethlehem, how still we see the lie…' feels so ironic when the wider region is anything but still or peaceful.
We really need to redouble our efforts and prayers for a lasting peace in the Middle East and an end to the horrendous suffering on all sides.
 
And then Sunday afternoon at 3pm I am even more excited to welcome the Bishop of Selby, the Rt Revd Dr John Thomson, for our first Confirmation Service in 7 years.

The promises are very similar to the ones made on the candidates behalf when they were babies, or in some cases a little bit older. They will now be making them for themselves as adults. I'm hoping that some of them will share a little bit of their spiritual story with us on Sunday afternoon.

To give you a little taster one of the candidates has already started to tell her story…

"For decades I have been curious about God and Jesus. I have read countless books, Bible included, and watched numerous videos on religion. The more I find out the more questions I ask.
A few years ago I had life changing surgery and was unable to work for nearly 2 years, so I really started studying religion etc. This gave me a need to join a church.
I was so worried about not being accepted that it stopped me joining for decades.
 One day I was so down, without thinking I got dressed and went to a service at 

St

 

Oswald

's.
I've never looked back, it was the best thing I could of done".
 
Even as a vicar for a lot of years I thought Confirmation was about candidates 'confirming' the promises made on their behalf at the baptism.
In fact it is about God 'confirming' His love for them as we pray for the Holy Spirit to come upon them – God's personal seal of approval! (Ephesians chapter 1 verses 13-14).


Please pray for Kay, Myfanwy, Annabel and Anita and, if you can, do come along to the service to support them.
 Sunday 3 December at 3pm

After the service there will be a light afternoon tea.
 
 Yours in Christ …

Sue S

Rev Canon, Interim Minister
 t. 01904 633261 / m. 07521 778195
e. 

[email protected]


The Vicarage, 1 Fulford Park, YO10 4QE
(not available on a Friday)
 
---
WHAT'S HAPPENING AT 

ST

 

OSWALD

'S
---
CHURCH SERVICES
+ Our regular Sunday and Wednesday 10am services take place in church

+ Sunday 10am services are usually livestreamed 

on YouTube (also available as catch-up afterwards): 

http://bit.ly/Stoswaldsyoutube

 (click on 'Live')
---
Reverse Santa's Grotto
During the weekend of our Christmas Fair you are invited to bring a gift of a selection box, a box of biscuits or a new toy to the manger in our nativity scene in church instead of getting a present from Santa. These gifts will then be given to those spending Christmas in temporary accommodation for whatever reason – 
an extension of our usual children's present collection for James House. 
---
SUNDAY 3 DECEMBER10AM
Service Sheet: 
click 
here
Readings: 
Philippians 2 vs 1-11, Matthew 21 vs 1-13
Worship hymns & songs:
 click 
here
After the service, do come for refreshments in the church hall – everyone is welcome!

3PM CONFIRMATION WITH COMMUNIONwith the Rt Revd Dr John Thomson, The Bishop of Selby
Service Sheet: 
click 
here
Readings: 
Isaiah 64 vs 1-9
, 
1 Coriinthians 1 vs 3-9,
Mark 13 vs 24-end
Worship hymns & songs:
 click 
here
Please pray for Kay, Myfanwy, Anabel and Anita as they prepare for their Confirmation.
Do come along to the service to support them.The service will be followed by 'Afternoon Tea' type refreshments in church. 
---
MONDAY 4 DECEMBER10AM MORNING PRAYERTUESDAY 5 DECEMBER10AM-12NOON COMMUNITY CAFEand 
BABY CAFE
All babies & parents very welome! No specific activities planned …
just a time to relax together
6-6.30PM PRAYING FOR THE WORLD
A short service of prayer at 5 REDMAN CLOSE
All welcome
WEDNESDAY 6 DECEMBER10AM HOLY COMMUNION
(Book of Common Prayer)10AM-12NOON COMMUNITY CAFETHURSDAY 7 DECEMBER9.30-11.30AM
ST

 

OSWALD

'S TOTS
---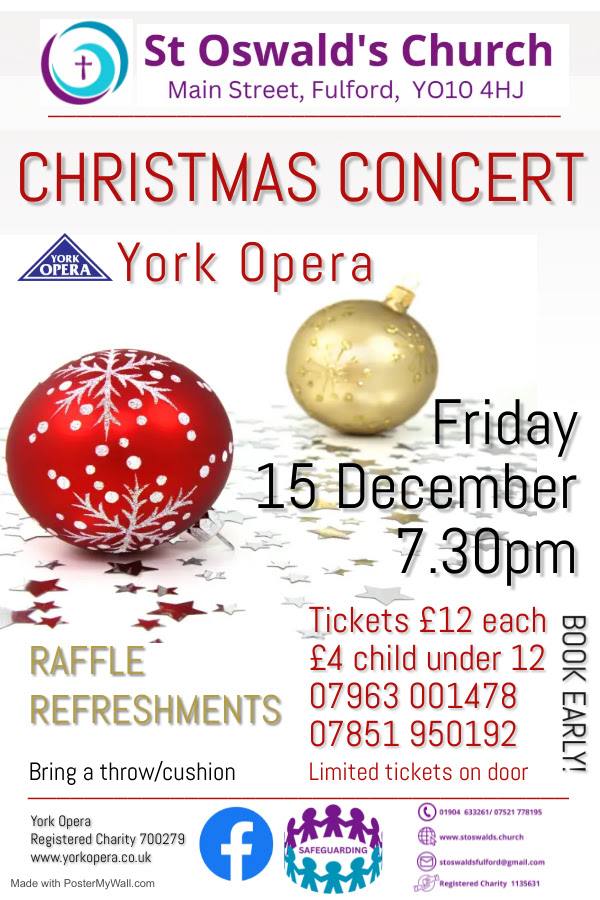 Buy your tickets now from Sue Baughan & Tricia Giltrap!
---
REMINDER
I am hoping to send a box of hats to Mission to Seafarers before Christmas so if you have knitted any hats, I would be grateful if you could let me have them as soon as possible.  Thank you. 
Jackie Tuvey-Smith
 07800 77436
To read their latest newsletter, click HERE
The Mission to Seafarers
 is one of 
St
Oswald
's Church chosen charities
, 
providing help and support to the 1.89 million crewmen and women who face danger every day to keep our global economy afloat.  Wendy Henwood: m. 07803 015454, e.
[email protected]
---
REMINDERCHRISTMAS PRESENTS FOR CHILDREN IN TEMPORARY ACCOMMODATONWe are collecting presents again this year for the children who live in James House. James House is temporary accommodation for families run by York Council.
Please could you wrap your presents and label them with the age they are appropriate for (under 1, 1 – 2, 3 – 4. 5 – 7. 7 – 11, 12 – 16) and boy or girl or either. There is a box at the back of church to leave the presents in or I can collect.
Please could you bring your presents to church by Friday 17th December?
Thank-you Sue Baughan 07963 001478
If you would prefer you could bring your presents unwrapped to the Church Fair
 (Saturday 2 December) and leave them at the nativity scene in the Lady Chapel.
---
REMINDER
New Year's EveOn Sunday 31 December we will be having a Songs of Praise service. 
I invite you to choose a carol to be sung at that service and tell us why it is special to you. 
This was highly successful last year and so lovely to hear people's stories.  It would be great to hear your story too.
If you would like more details or to take part, please contact Jackie Tuvey-Smith 07800 774364 or 

[email protected]
---
Wednesday 6 December 7.30pm (Redman Close Group)
contact Jackie Tuvey-Smith e.
 

[email protected]

Wednesday 10 January 11.15am (Sir John J. Hunt Meeting Room Group) 
contact Lesley Milner t.01904 652782
Thursday 7 December 7.30pm
 (
Heslington Lane
Group)
contact Caroline Moore, e. 
[email protected]
If you would like to join a group
please contact Jackie Tuvey-Smith
---
REMINDER

ST

 

OSWALD

'S CHURCH PRAYER CHAIN

ST

 

OSWALD

'S CHURCH WHATSAPP GROUP
Contact Pippa Ensor, e. 
[email protected]
m. 07949 844395
---
CHURCH SERVICES RADIO/ONLINE> 8.10AM – BBC RADIO 4 SUNDAY WORSHIP
92-95FM | 198LW | Digital
God's Justice: towards the earth – Live from the chapel of 
St
 Catharine's College in Cambridge. Through this season, Sunday Worship will explore what God's justice means in differing contexts.
> 9AM – CHURCH OF ENGLAND
ONLINE
SUNDAY SERVICE
YouTube/Facebook/
website
---
LOCAL NEWS, SUPPORT & HELP ETC
————
St

 Chad's, Campleshon Road, York

Next concert: Thursday 7th December

Ripon Resound Choir – Christmas Concert
The event is a relaxed concert, and ideal for people who may not feel comfortable at a formal classical concert, so we do not mind if the audience wants to talk or move about! Seating is unreserved and there is no charge although donations are welcome. We give the hire cost to the church and the rest goes to Alzheimer's charities.————
---
REMINDER

ST

 

OSWALD

'S CHURCH HALL RECYCLING HUB  Recycle More Plastics poster 
(
not
 cheese packets)
What can you recycle? Check it out 
HERE!
Clean cans, foil + tablet blister packs (all in bags)
can be put in the Christian Aid bin on the right
---
REMINDERYORK FOOD BANK – Helping local people in crisis. The foodbank relies on your goodwill and support.DONATING FOOD
: There are collection boxes in the church & church hall
Currently needing
: UHT Milk, Cartons of Fruit Juice & Bottles of Squash, Dried Milk, Tinned Rice Pudding & Custard, Sponge Puddings, Instant Mash Potato, Jars of Instant Coffee, Jam (not homemade), Tinned Fruit, Sugar, Tinned Tomatoes, Nappies Size 5 & 6, Laundry Detergent, Cleaning Sprays & Washing Up Liquid, Men's Deodorants
There are also food collection points: 
for items bought in store at Waitrose (Foss Islands), Asda (Monks Cross), Tesco (Askham Bar), and at Food Warehouse (Clifton Moor)
DONATING MONEY:
  You can also support the Food Bank work by donating via this link 
here
---